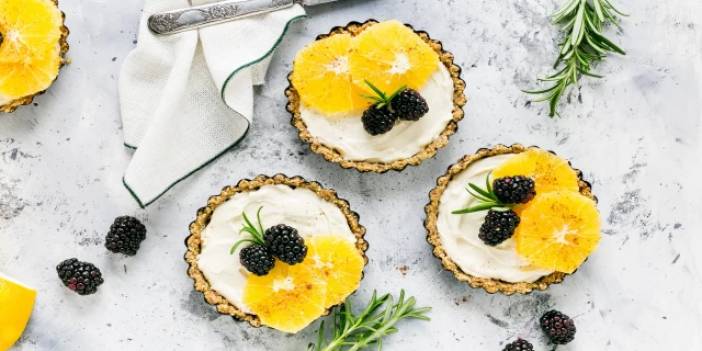 Sugar-Free Dessert Recipes: 6 Low-calorie and Delicious Sugar-Free Dessert
Sugar, which is one of the 3 substances that are harmful to health, not only causes us to gain weight, but also causes health problems that are difficult to treat. However our favorite foods are often prepared with sugar.
Sugar, which not only dietitians or nutritionists but also all doctors constantly say to be harmful, is unfortunately the main ingredient in all our favorite foods. For example; cake, ice cream or a great chocolate...
Many people who pay attention to their health and diet, get rid of sugar first, then salt and flour when stepping into a healthy life. The recipes we will give are for those who do not want to use sugar and who wonder how sugar-free dessert is. When you try it, you will like it and share it with your loved ones!
Sugar Free Dessert Recipes
Fruity Avocado Pudding
Materials
4 ripe avocados
1 glass of milk
1/2 cup pine honey or maple syrup
2/3 cup cocoa
1 teaspoon vanilla extract (Optional)
Ingredients
Cream or cream
Fresh and frozen summer fruits
Fresh thyme
Chocolate
How is it done?
Blend all ingredients in a blender for 5 minutes until it reaches the consistency of pudding.
Refrigerate for 2-3 hours to cool.
Serve cold with cream, fruit and chocolate.
Fit Apple Crumble
Materials
Ingredients for Dough
30 g oats
45 g whole wheat flour
1 teaspoon of salt
50 g of coconut oil
25 g coconut sugar
Ingredients for the Stuffing
2-3 (500 g) flavored apples (like granny smith, macoun, or empire)
2 tablespoons of coconut sugar
50 g of pecans
Half a teaspoon of cinnamon, less salt, less cloves, less nutmeg
How is it done?
For the dough; Put the wheat flour, oats, coconut oil, salt and coconut sugar in the food processor and mix until doughy.
To prepare the filling, peel and thinly slice the apples.
Add coconut sugar, pecans, salt, cloves, cinnamon and nutmeg.
Spread the filling material on the round tart mold with a diameter of 23 cm and the dough you prepared on it.
Bake the dessert in the oven at 180 degrees for 45 minutes.
You can serve the fit apple crumble dessert with peach ice cream.
Sugar Free San Sebastian Cheesecake
Materials
1 cup of almond flour
2 eggs
200 g labneh
180 g cream
Half a teaspoon of carob extract
1 packet of baking powder
How is it done?
Beat eggs, labneh, cream and carob extract with a mixer until smooth.
Add almond flour and baking powder and mix with a whisk.
Put the mixture you prepared in a springform mold and bake in a preheated 180 degree oven until golden brown. (about 30-35 minutes)
Slice and serve when cool.
Fat Free, Flour Free, Refined Sugar Free Cake
Materials
3 ripe bananas
1.5 tablespoons of cocoa
40 g grated coconut
3 eggs
2 teaspoons of baking soda
2 teaspoons of honey (optional)
How is it done?
First, mix the banana and eggs, then the other ingredients in the blender until it reaches the consistency of cake batter.
Grease a thin long cake tin and pour the mortar into it.
Bake in the oven preheated to 180 degrees for about 30-40 minutes.
After cooling, slice and serve.
Banana Sugar Free Muffin
Materials
2 bananas
75 g chopped hazelnuts
1 cup of whole wheat flour
1 teaspoon of baking powder
1 teaspoon vanilla
2 tablespoons of chocolate chips
1 glass of water Milk
2 tablespoons of molasses
2 eggs
1 tablespoon of olive oil
Ingredients for Top
How is it done?
Chop the bananas coarsely. Take all the ingredients in a large mixing bowl and beat them with a mixer. Add the chopped bananas to the mixture. Divide the mixture into paper muffin tins.
Bake in a preheated 180 degree oven for 20-25 minutes. Sprinkle with hazelnuts and serve warm.
No Cooking, Refined Sugar and Gluten Free Cheesecake
Materials
Ingredients for the Base
1/2 cup hazelnuts, almonds, walnuts or a mix of all
6 dates
Ingredients for Cream
2 tablespoons ricotta cheese or unsalted curd
3 teaspoons of honey
Ingredients for Top
1 large banana
2 teaspoons cocoa
Ingredients for Decoration
How is it done?
Make a dough by pulling the ingredients needed for the base in the rondo. Spread this dough on the bottom of a 12 cm diameter tart tin. Mix ricotta cheese and honey on a plate at the same time and spread over the base.
In a separate bowl, mash the banana and mix it with cocoa and spread over the cheese cream. When 3 layers form, put the dessert in the freezer and freeze for 1 hour. Then put it in the fridge. Sprinkle blueberries on top and serve.
To decorate it; You can use any fruit you like, chopped nuts, dried coconut.