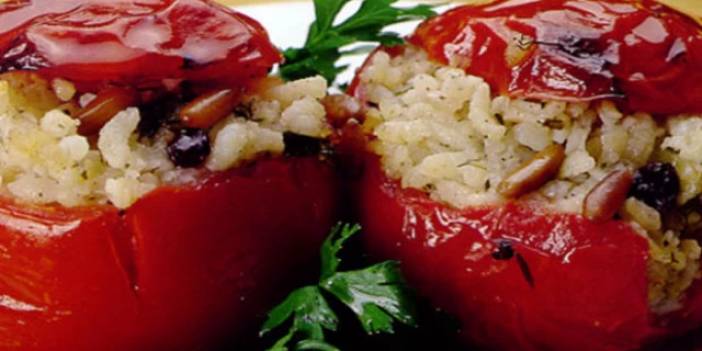 Stuffed Tomatoes Recipe for Dinner
Stuffed tomatoes are a great dish. A really hearty option for dinner.
Today we are going to share a great recipe with you. Stuffed tomatoes is a dish that is not known but very tasty. Summer is here and tomato prices are cheaper now. So you can try this recipe at home.
Everything you need to know for stuffed tomatoes
MATERIALS
12 tomatoes
2 tablespoons of olive oil
1 cup of hot water
1 glass of tomato juice
For internal mortar
1.5 cups of rice
1 teaspoon of currants
1 teaspoon of peanuts
1 teaspoon allspice
1.5 cups of rice
3 onions
Half a glass of olive oil
Yes, these are our materials. Now we will share with you how to make stuffed tomatoes recipe...
First prepare the stuffing. Soak the rice in boiling water for 15 minutes and drain. Chop the onions and sauté in olive oil until soft.
Then throw the pine nuts into the onion and fry for a short time. Then add the rice, currants, salt, pepper and allspice and fry them all. Pour about 1 glass of boiling water over the rice and cook it on medium heat until it absorbs its water.
Cut the top of the tomatoes in the form of a cap to obtain a tomato cap. Carve out the inside of the tomatoes and mash the part inside.
After the rice is cooked, fill the tomatoes and cover them with the tomato cover you cut. On the tomatoes you put in the pot; Pour 1 glass of hot water, 1 glass of tomato juice and 2 tablespoons of olive oil and cook for 15 minutes.
Enjoy your meal.
This recipe is a traditional Turkish dish. Stuffed tomatoes, which is unique to Turkish cuisine, is a recipe that is not generally known among dishes with olive oil, but is quite delicious when made.