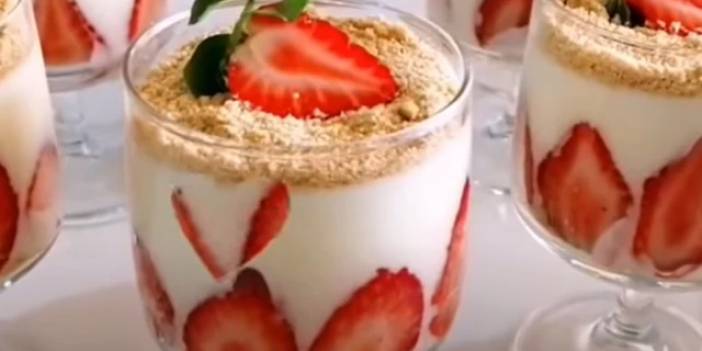 How to Prepare Magnolia? The Lightest And Innocent Sweet Magnolia
We have prepared a wonderful dessert recipe with a soft pudding filling, a biscuit with oatmeal on top and a strawberry scent, the most beautiful fruit of the season. Moreover, it is quite light... Here is the classic but very delicious Magnolia recipe.
Magnolia is a milky dessert prepared with seasonal fruits. This dessert, which is usually prepared with cold and fragrant strawberries in summer, has spread to the world from New York patisseries. This dessert, which also comes to the fore in Europe, is now one of the easiest and most delicious dessert recipes that can be made at home. So what is needed to make a delicious Magnolia? Let's see together...
Ingredients for Magnolia
5 cups of milk
1 cup of granulated sugar
1 packet of vanilla
1 egg yolk
2 tablespoons of starch
2 tablespoons of flour
3/4 cup cream
1 pack of biscuits (baby or whole wheat)
20 strawberries
How to Make Magnolia
Add milk, sugar, starch, flour and egg yolk into a saucepan and mix well.
Cook over medium heat, stirring, until it reaches the consistency of custard.
Take the stove, add the vanilla and mix.
After it cools down a little, add the cream and mix.
Run the biscuits through the rondo.
Thinly slice the strawberries.
Layer pudding, strawberries and biscuits in a glass or dessert bowl.