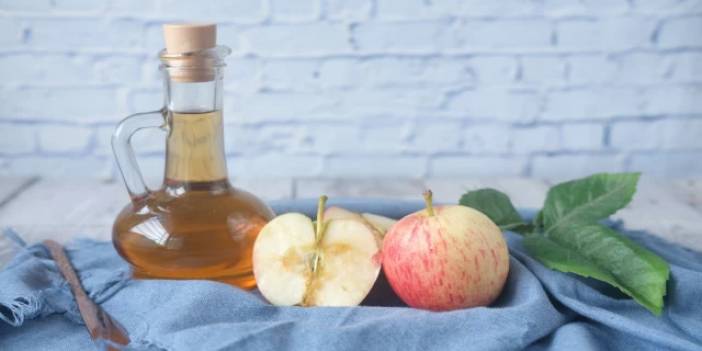 How to Prepare Apple Cider Vinegar? Apple Cider Vinegar Recipe and Benefits
Apple cider vinegar adds flavor to salads and meals. It also acts as a natural antibacterial and antibiotic. How to make apple cider vinegar that takes its place in every kitchen? Let's see together.
In addition to adding flavor to salads, apple cider vinegar prevents bacterial growth, regulates the acid balance in skin and body care and helps to weaken. Some substances in apple cider vinegar, which is also used as a natural cleaning product, are found together in very few foods.
Apple cider vinegar contains small amounts of vitamins A, B1, B2, B6, C and E. It also contains calcium, magnesium, potassium and phosphorus.
Natural Apple Cider Vinegar Recipe
Ingredients for Apple Cider Vinegar
5-6 liter glass jar
2 kilos of apples
1 teaspoon of sugar
1 teaspoon of salt
A few chickpeas or a piece of bread
How to Make Apple Cider Vinegar?
Apples are quartered, if large, cut a little smaller.
Core parts are removed.
It is placed so that it covers half of the jar and chickpeas are added.
It is filled with drinking water.
It is necessary to leave some space for the gas to escape.
Add 1 teaspoon of sugar and salt and mix.
The top of the jar is covered with cheesecloth and tied and fixed.
The mixture must breathe for fermentation.
It is left to stand for 30 – 45 days.
It is useful to stir it with a wooden spoon once in a while.
When the vinegar flies begin to form, the apple pulp is emptied.
After the dough is separated, 1 teaspoon of sugar and 1 teaspoon of salt are added to the vinegar and mixed.
The jar is closed and stored in a cool and dark place.
After a while, yeast, called the mother of vinegar, forms on the vinegar.
White, transparent ring-shaped yeast and a pungent odor indicate that the vinegar is ready.
What Are the Benefits of Apple Cider Vinegar?
Since it contains vitamin C, it increases body resistance.
It has properties that repair the nervous system and strengthen its structure.
It regulates the PH balance by increasing the alkali level in the body, thus facilitating the removal of some toxins and giving shine to the skin.
It has a positive effect on the digestive system. Soothes intestinal spasms.
Apple cider vinegar provides partial healing in acne spots.
Apple cider vinegar is also an alternative treatment for athlete's foot. It has been observed to help relieve fungus in most people.
Thanks to its ability to destroy some bacteria, it can be good for diarrhea.
It supports the absorption of vitamin B12 in the body.
It destroys the bacteria that cause underarm sweat and foot odor.