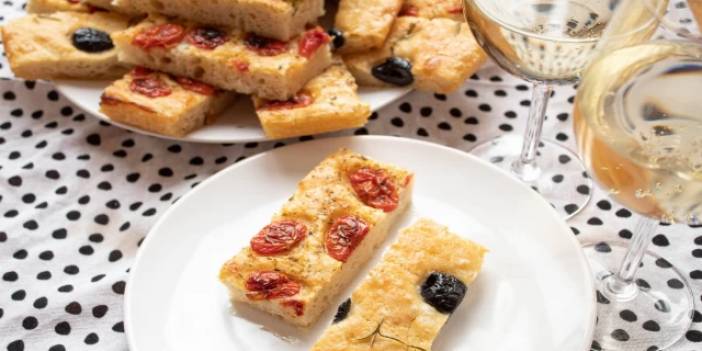 Focaccia Bread Recipe, Favorite Italian Recipe...
A recipe that combines olive oil, thyme, rosemary, sun-dried tomatoes and black olives that you can eat both as bread and as a great breakfast. Focaccia, the famous bread of Italy!
Focaccia is one of the most loved recipes of Italian cuisine. This very delicious bread recipe is both satisfying and visually perfect with its delicious ingredients.
Focaccia can be served not only with bread, but also with tea on its own. This bread, which is also served for breakfast, can be served to guests as a canapé and sandwiches can be made.
Ingredients for Focaccia Bread Recipe
500 gr. flour
373 ml. warm water
1 tablespoon of dry yeast
1 teaspoon of salt
100 gr. sliced ​​black olives
50 gr. dried tomatoes
1 tablespoon of olive oil
2 sprigs of fresh thyme
Ingredients for Top
1 tablespoon of olive oil
1/2 teaspoon sea salt
2 sprigs of fresh rosemary
Extra Ingredients
1 tablespoon of olive oil
How to Make Focaccia Bread Recipe?
Mix warm water and yeast in a deep mixing bowl.
Add the sifted flour, salt and olive oil. Knead the dough until it thickens.
Add the freshly extracted thyme leaves to this delicious bread dough, which has a slightly runny consistency, and mix.
As you would like to see when you cut the bread, cut the dried tomato slices whole or into small cubes and add them to the bread dough. Add the chopped black olives.
Mix the dough one last time by hand or with a wooden spoon. Spread the dough you prepared in a round or rectangular shape on the mold or baking tray you will use.
Leave the dough like this for 30 minutes at room temperature to ferment and rise.
Brush olive oil on the dough with an egg brush. Sprinkle with sea salt and freshly extracted rosemary.
Prepare your bread by baking it in a preheated 180 degree oven for about 30 minutes. After removing the bread from the oven, let it rest on a wire rack.
Let the rosemary absorb all its aroma and flavor by drizzling olive oil on it in between.