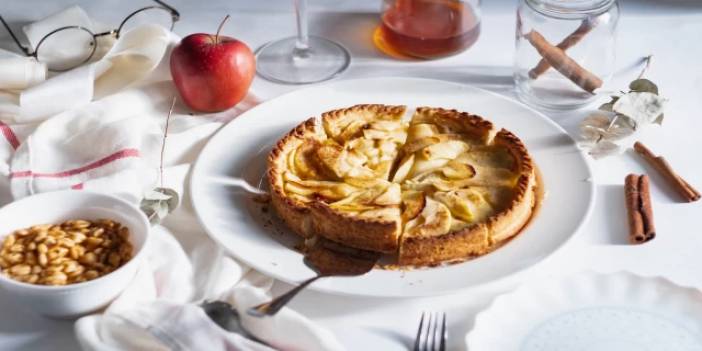 Apple Fit Pie Recipe! No contain refined sugar and white flour...
Apple Pie is a wonderful dessert and pastry that is generally preferred during the winter months. Such recipes are generally sweet. However, the recipe we will give will warm you both in summer and winter and will not make you gain weight.
Apple Pie is a dessert that is usually made in winter and eaten hot. However, it is consumed by serving with ice cream on it in summer. There is a recipe that gives a different perspective to apple pie, which is in the first place among known pie recipes. Low in calories, no refined sugar and white flour! A special recipe for those who don't want to keep their form but don't want to give up dessert!
Apple Fit Pie Recipe
Ingredients for Apple Fit Pie Recipe
2 cups whole wheat flour
1 egg
2 tablespoons of yogurt
1 teaspoon of baking powder
1 coffee cup of coconut oil
3 grated apples
2 teaspoons of cinnamon
3 tablespoons of carob extract
1 handful of peanuts
How to Make Apple Fit Pie
Mix grated apples with cinnamon and put in a pan without oil. Cook until the water evaporates.
Add 2 teaspoons of carob extract and pistachios and mix, turn off the stove.
Take 1 egg, 1 cup of coconut oil and 3 tablespoons of carob extract in a deep bowl and mix. Add 2 tablespoons of yogurt to it.
We add 2 cups of whole wheat flour and add the baking powder.
Knead the dough.
Take a piece of dough the size of 1 medium orange and set it aside.
Roll out the remaining dough to the size of your tart mold, not too thin, with the help of a rolling pin.
Then spread on the base of the greased and floured dough. Spread the applesauce evenly on it.
Open the piece of dough you have set aside with a rolling pin between 2 greaseproof papers and cut into thin long strips with the help of a knife.
Place the slices in the holder as desired and bake in a preheated 180 degree oven for 20 minutes.
Note:
You can use butter instead of coconut oil.
You can use honey or coconut sugar instead of carob extract.
Cook until the apples run out of juice so that the bottom of the cake does not get wet.