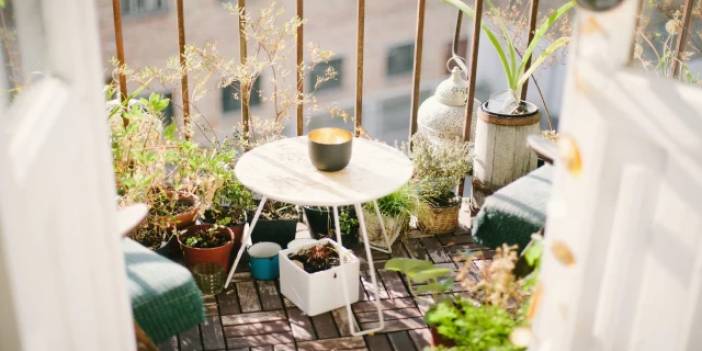 Balcony Decoration Suggestions and Ideas!
Balcony is an important element that we pay attention to when buying a house. Because in the summer months, the balcony is the place where we spend the most time in the house. Recently, balcony decoration has come to the fore among decoration.
A balcony is an area that is usually located outside the house and filled with simple furniture. The balcony, which has become a place where we eat, drink coffee and even sunbathe in the summer months, is actually one of the most important parts of the house that needs to be decorated.
Not every balcony overlooks a forested or wooded area. Especially the balconies of the houses in the city face either the street or the balcony or wall of another flat. If you want to isolate yourself from this boring city life with decoration, take a look at my suggestions.
Balcony Decoration Suggestion for Pleasure Lovers
To create a peaceful space on the balcony, your priority is to relax. Make room for a large sofa, rug on the floor, lanterns and flowers.
Choose natural materials such as rattan, bamboo.
Make small stools coffee tables, but they're also comfortable to use as foot extensions when needed.
Combinations of textures and materials add depth to the space.
Create a home atmosphere in the evening by decorating with solar lanterns and colorful candles.
Get floor cushions and soft covers for comfort.
Balcony Decoration Suggestion for Nature Lovers
Turn the balcony into a garden by creating pots, equipment and space to sit.
Create a work area for pots of earth and seedlings on a wall.
Have small storage units, adjustable shelves, and a unit with a lid to keep it dry.
Use wooden crates for large plants or vegetables and decorative boxes to keep small flower pots together.
Use folding or stackable chairs, a folding table, a large umbrella that provides shade.
Balcony Decoration Ideas
If you have a large balcony, you can choose large potted plants. If you arrange these plants according to the architectural structure of your balcony, a more elegant image can be created. Another important point in balcony decoration is sitting groups. Since these products are produced using lightweight materials that are resistant to moisture and precipitation, they can be easily transported.
If you have a small balcony and you have a narrow space to put flowers, you can choose hanging pots. Thus, you can achieve an aesthetic appearance even in limited areas.
Wide Balcony Decoration
You can choose wicker seating groups.
You can place your accessories by adding wall shelves to your balcony.
You can place a weather vane in a place that receives a lot of wind.
You can arrange decorative sculptures from small to large or to form geometric shapes.
Small Balcony Decoration
You can save space with hanging flower pots and folding tables and chairs.
If you prefer accessories such as candles, vases, trinkets from small models, you will both decorate your balcony and prevent a crowded image.
You can also choose cushions in various sizes instead of sitting groups.
You can choose a rocking chair.
When purchasing candle holders for your balcony, you can turn to decorative models that you can use in your home. Thus, your candle holders do not take up extra space on your balcony when you are not using them.