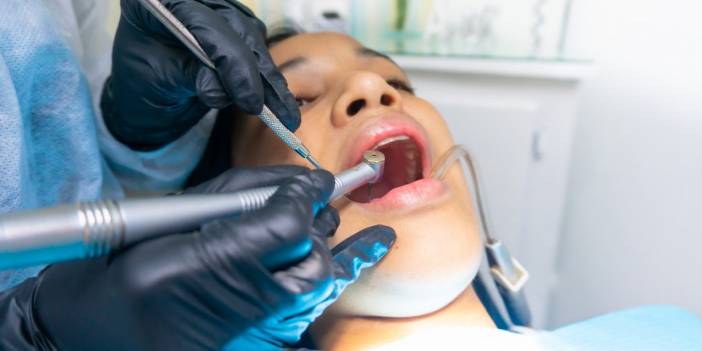 What Causes Tooth Stone? How to Clean And Prevent Tooth Stones (Dental Calculus-Tartar)?
Tartar, which is formed as a result of not cleaning the plaque accumulated on the tooth surface for a long time and hardening to form calculus, damages both teeth and gums. So what is a dental calculus? What causes dental calculus, how to clean it?
Tartar is the combination of the minerals in dental plaque and saliva and turning into a hard structure like a stone over time. It occurs below the line where the tooth surface meets the gum. Dental plaque, which contains food residues and microorganisms, should be cleaned regularly.
Toothbrush, floss and mouthwashes help remove dental plaque. If this plaque is not removed, it can become a stone (tartar). Especially in people who do not pay attention to oral hygiene, tartar may occur. It can also be seen in people who do not brush properly and do not clean the gingival margin.
What Causes Tooth Stone?
Minerals in your saliva accumulate on the tooth surface with food entering the mouth. There is plaque accumulation that gives a sticky feeling on the teeth.
If dental plaque is not removed with regular oral hygiene, it can start to harden. As the amount of hardening increases, tartar formation may occur. It is usually light colored and yellowish in appearance. The color of the calculus may become darker due to the food and drink accumulated on the calculus.
How to Prevent Tooth Stone Formation?
It may not always be possible to prevent tartar formation. Tartar formation may be inevitable due to the structure and amount of minerals in the saliva of some people. But there are some tips to reduce the buildup.
Points to be considered in order to prevent the formation of dental calculus;
Brushing teeth for 2 minutes twice a day
Using a toothbrush of the right size and hardness for the individual
Using an electric toothbrush and mouthwash
Using dental floss
Using fluoride toothpastes
Avoiding sugary and acidic foods
Brushing teeth or rinsing mouth with water after eating
Not using cigarettes and tobacco products
Going to the dentist regularly
How to Clean Tooth Stones?
Tooth stones cleaning is a procedure that should be done by dentists. It does not require anesthesia as it is not a painful and painful procedure. However, people suffering from swelling, redness and pain in their gums may feel sensitivity due to water and vibration caused by the devices used during this procedure. In such cases, it may be necessary to numb the areas where pain is felt. With the help of special tools, the stones on the tooth surface can be cleaned in a short time.