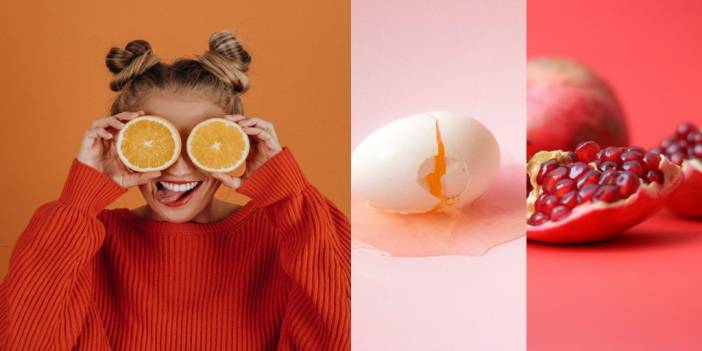 Foods that help keep skin moist! You can rejuvenate by consuming these foods
Your skin can lose its health for various reasons. One of these, and the most common, is skin dryness. You can experience dry skin for many reasons. But the solution is simple. Here are the nutrients that help keep skin hydrated.
Your skin can lose its health for various reasons. Smoking, alcohol, unhealthy diet, irregular sleep and cold or extremely hot weather. One of the reasons that shows that skin health is not good is skin dryness. Winter is the season when skin dryness is most common. However, it is possible to prevent skin dryness with the foods you consume. Let's take a look at what these foods are.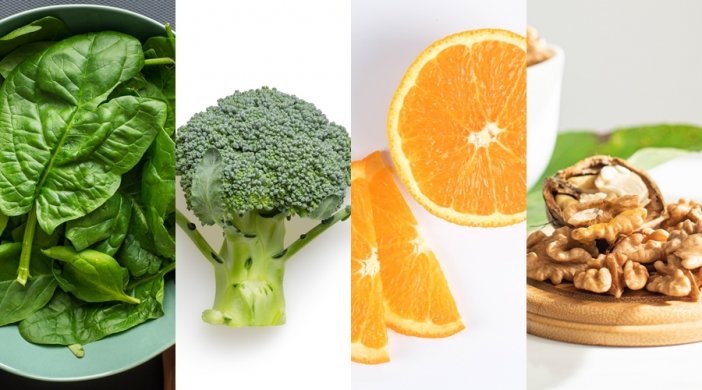 10 FOODS TO MOISTURE DRY SKIN
1- Almond
Almond, which is a source of vitamin E, comes to our rescue at many points. The monounsaturated fat in almond oil is quickly absorbed by the skin. In this way, it maintains the moisture balance of the skin. We can say that it significantly reduces the dryness of your skin. Also a source of protein and fiber.
2- Sunflower Seeds
As a result of a study, it has been seen that it reduces skin dryness and skin thinning. Approximately 30 grams of sunflower seeds contribute to your daily zinc, selenium and vitamin E support. Contains anti-inflammatory vitamins. Thus, it supports the protection of your skin barrier.
3- Walnut
Walnuts contain zinc, omega-3 and omega-6. It is also a source of essential fatty acids. It also contains small amounts of vitamins E and C. It also contains selenium and protein. Walnuts not only take part in the healing of skin wounds, but also support your skin health. It's like a miracle meal.
4- Avocado
When it comes to skin care, we think that everyone thinks of avocado. Thanks to the oils it contains, it helps to keep the skin supple and moist. Avocado, which is rich in vitamin E, also protects your skin from harmful sun rays.
5- Sweet Potatoes
Sweet potatoes, which give a healthy glow to the skin, contain plenty of vitamins A and C. Vitamin A protects your skin from the harmful rays of the sun. It also provides moisture support to your skin by helping to prevent your skin from drying out.
6- Orange
There is no one who does not know that oranges are a storehouse of vitamin C. Orange, which is also rich in potassium, helps reduce skin dryness and balance moisture values.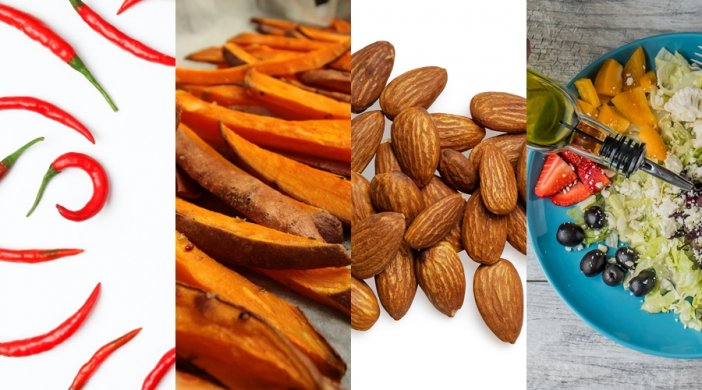 7- Broccoli
Broccoli contains vitamins A and C. It's also next to your skin with zinc and lutein. There is a lot of collagen in food. This substance provides the formation of connective tissue. In this way, it supports the repair of your damaged skin. Let's not forget that your skin, which is dry due to oxidative stress and related dryness, is with you.
8- Red Pepper
Red peppers contain vitamins A and C, and they also contain vitamins K and E. Thanks to vitamin K, it helps your skin stay moist, smooth and soft by increasing your collagen level. Vitamin E helps reduce inflammation caused by dryness and damage to your skin.
9- Coconut
If you are a skin care lover, you may already know about the many benefits of coconut oil. In addition, consuming its fruit is very important for skin health. It helps keep your skin moist, making you look healthy and young.
10- Spinach
Spinach contributes to the increase of collagen with vitamin K as well as vitamin C. In addition, spinach, which also contains potassium, is among the foods that contribute to the prevention of skin dryness.
11- Pomegranate
Thanks to the bee seeds in its content, it prevents your skin from being damaged by the sun. Thanks to ellagic acid, an antioxidant known to protect against UV rays, it prevents your skin from drying out.
12- Egg
The protein-rich egg promotes cell regeneration and helps protect the skin. It also fights wrinkles on your skin.
NOTE: Not drinking enough water causes skin dryness and even metabolism not working properly. For this, drink at least 2-2.5 liters of water per day. On the other hand, use olive oil, which is the most natural and quality source of vitamin E, in your meals and salads. Vitamins A and E in olive oil help renew the skin barrier.
Source: Onedio Edited by: Life724 Photos: Unsplash