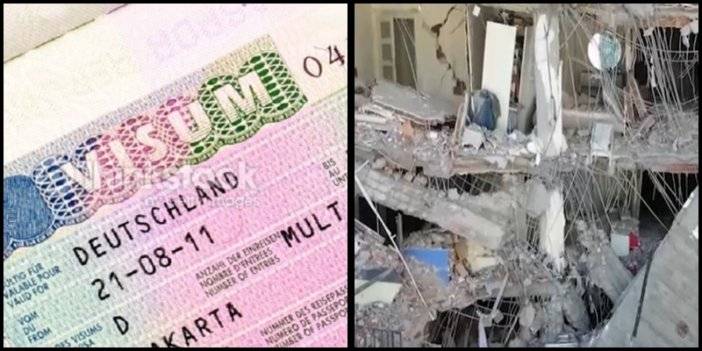 Visa knot for Turks solved! Visa decision for earthquake victims from Germany...
Following the devastating earthquakes in the Turkish cities of Kahramanmaras, Hatay and Malatya, the details of the German government's simplified visa application for earthquake victims have emerged.
After the 7.7 and 7.6 magnitude earthquakes in Kahramanmaraş, the German government and Berlin state officials took action. It was stated that the studies on the simplified visa application continue in order to speed up the entry of earthquake victims who have close relatives in Germany.
Berlin Brandenburg Turkish Community Association held an information meeting with the Director of the Berlin State Immigration Office, Engelhard Mazanke, to clear up the confusion regarding the simplified visa issue. Before the start of the event, a minute's silence was held for those who lost their lives in the earthquake.
Mazanke, who took the floor after the spokesperson Ayse Demir who made the opening speech, explained in detail how and under what conditions the simplified visa for earthquake victims would be applied.
It Will Only Apply To Germany
Immigration Manager Mazanke began by saying that a simplified visa actually cannot be obtained so easily. Mazanke said that the simplified, expedited visa should not be understood as a procedure that will proceed without any bureaucratic procedures and controls. According to the currently envisaged procedure, persons coming from Turkey must have first and second degree passport holder relatives. Visas valid only for Germany and non-extendable will be issued for 90 days. Also, the prospective person must have a clean track record. (not have been previously deported from Germany for any reason)
According to Mazanke, people who will invite relatives of earthquake victims from Turkey to Germany must first have enough money in their monthly income or bank accounts to vary from person to person. A 90-day health insurance premium is also obligatory for earthquake victims who come to Germany. The inviting person will undertake to cover all the expenses of their relatives during their stay in Germany. Because the 3-month visa to be issued does not include any social rights for the prospective person, nor does it include benefiting from the state's social benefits and free health insurance. In this context, beneficiaries of social assistance cannot invite their relatives.
If the earthquake victim who came to Germany from Turkey continues to stay in Germany after the 90-day visa expires and benefits from social assistance, the social assistance institution will ask for this money from the person who invites it. If the invited relative applies for asylum in Germany after the visa expires, the inviting person will have to cover all costs for another 5 years.