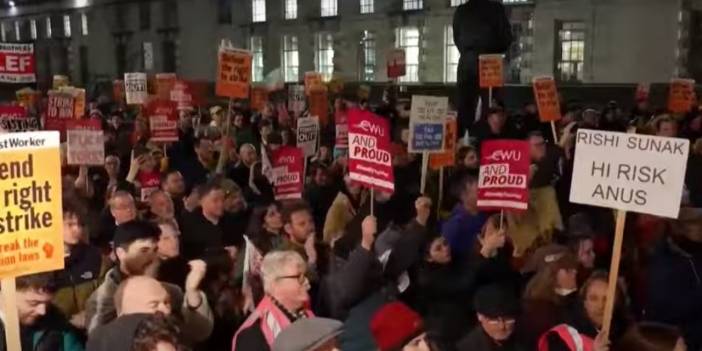 The biggest strike in history in the UK! 500 thousand people quit their jobs
Teachers, civil servants, rail and bus workers and university workers went on strike at the same time in England today. It was an unprecedented strike in the history of the country.
Some unions in the UK have decided to strike today for the first time in their history or for the first time in decades.
It is stated that the biggest and most comprehensive strike of the last 10 years was held today, with the decision of many unions to unite the strike movements.
Especially since the summer of last year, tens of thousands of workers joined the strikes on the grounds that wage increases were behind the cost of living.
Inflation in the UK increased last year and reached 11% in November, the highest level in the last 40 years.
One of the most important reasons for the strikes is that wage increase offers fell behind this huge price increase. According to the Institute for Financial Studies, teachers' salaries decreased by an average of 11 percent in real terms from 2010-2022. The unions actually say that this rate is 23 percent.
In England and Wales, teachers received only a 5 percent raise last year. In Northern Ireland, it was 3.2 percent.
Mechanics, Academic Staff, Technicians
Machinists are also among those who joined the strike movement, claiming that a 4 percent raise was offered in the last two years.
In addition to academic staff at universities, many employees, including administrators, librarians and technicians, decided to leave their jobs.
University staff also organized a three-day Strike in November.
Draft Law Approved
On the other hand, a new bill envisaging a minimum level of service during strikes in some sectors was passed in the House of Commons yesterday by 315 votes to 246.
The bill will become law with the approval of the House of Lords.
Many are expected to move on Wednesday to protest the law requiring some workers to return to work during strikes in areas such as the railways and emergency services, and those who oppose it could be fired.
The government said yesterday that it expects "significant disruptions" today.
British Education Secretary Gillian Keegan has taken a tough stance against public sector workers, saying that bowing to wage increases will only fuel inflation.