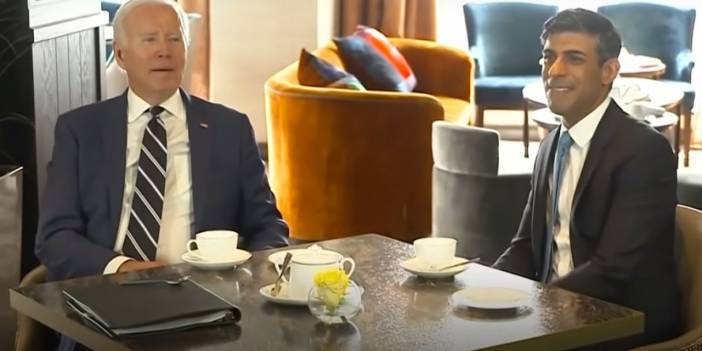 Shocking moments from Biden's UK visit! He could not recognize Sunak..
The crucibles that US President Joe Biden broke one after the other during his visit to the UK and Ireland caused reactions in the British media. Biden did not recognize British Prime Minister Rishi Sunak.
US President Joe Biden recently traveled to Belfast for a four-day visit to mark the 25th anniversary of the Good Friday Agreement that established peace in Northern Ireland.
BIDEN DID NOT KNOW RISHI SUNAK?
Joe Biden made another big blunder when welcoming the US President at Belfast Airport at British Prime Minister Rishi Sunak.
Biden, holding British Prime Minister Sunak during the welcome, greeted the man in uniform behind him.
While Biden's gaffe was on the agenda in the British media, the Dailymail newspaper said, 'Did Biden not recognize Rishi Sunak?' raised the question. Body language experts speaking to the newspaper claimed that Biden's cold attitude humiliated the prime minister.
"There was not a single glance, word or connection between the two leaders, except fake smiles," said experts, who viewed footage of Biden and Sunak drinking tea at a Belfast hotel after the strange welcome.
"BIDEN HATE ENGLISH" TENSION
In an allegation that emerged before Biden's visit to the UK and Ireland and was the subject of headlines in the British press for days, it was claimed that the US President was 'anti-British' and hated the British.
Giving a speech at the University of Ulster, Biden stated that his grandfathers lived in the Republic of Ireland before immigrating to the USA and said, "My grandfather used to say that the highest quality drop in his blood was Irish."
BIDEN'S WORDS IN IRELAND HAS BEEN AN EVENT
Although the warm message he gave lowered the tension a little, the US president, who is used to the crucibles his people broke, made a statement that angered the British in his next stop, Ireland.
Visiting Carlingford Castle, where his grandfather Owen Finnegan lived until 1849, as soon as his ancestral land left Ireland, Biden visited a pub in the city of Dundalk later in the day.
Biden talked about his distant cousin and rugby player Rob Kearney, who gifted him the tie he wore, and instead of the New Zealand rugby team, he spoke of the 'Black and Tans' persecuting the Irish people.
THE WHITE HOUSE TRIED TO FIX IT
While Biden's blunder created a "cold shower" effect in both England and Ireland, the White House stated that Biden tried to call the New Zealand rugby team "All Blacks" instead of "Black and Tans".
On the White House website, 'Blacks and Tans' was stripped and changed to 'All Blacks'.
Although the incident was portrayed as a simple slip of the tongue by the US, the British press claimed that the incident revealed Biden's 'partisan' stance towards Northern Ireland.