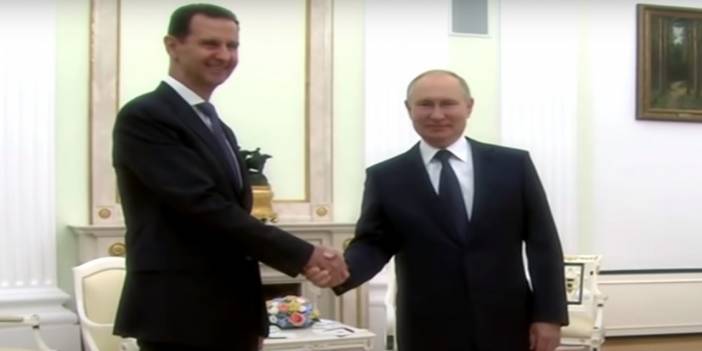 Russian President Putin and Syrian President Assad met in Moscow
Russian President Vladimir Putin and Syrian President Bashar Assad met in Moscow to discuss the situation in Syria and current issues.
Syrian President Bashar Assad arrived in Moscow, the capital of Russia, by private plane last night. Assad, who reinforced his security with the support of Russia after the civil war that started in Syria, met with Russian President Vladimir Putin at the Kremlin Palace. The two leaders made a press statement before the meeting.
Referring to the developing relations between Russia and Syria, Putin said, "We are in constant contact and our relations continue to develop. We continue to develop our relations at many points, including the commercial field."
Underlining that stability has been achieved to a large extent as a result of the joint struggle with the armed groups in Syria, Putin said, "Thanks to our joint efforts and the determination of the Russian army in Syria, significant results have been achieved in Syria. The fight against terrorism makes it possible to stabilize the socio-economic and domestic political situation." spoke.
Ukraine Support From Esad To Putin
Speaking after Putin's speech, Assad reiterated his support for Russia's military operation in Ukraine and said, "This special military operation against the old and new Nazis is Syria, as it is my first visit here since the start of the special operation. I would like to reiterate his support.''
Pointing to the efficiency of the negotiations between Assad, Russia and Syria delegations, he said, "I am very pleased with the results of the meetings held at the level of various ministries in the last 3 days. I see this as the most productive meeting.''
Assad also thanked Russia for the support it gave to Russia after the destruction caused by the Kahramanmaraş-centered earthquakes in Syria, "First of all, I would like to thank you and all the ministries of the Russian Federation who helped."