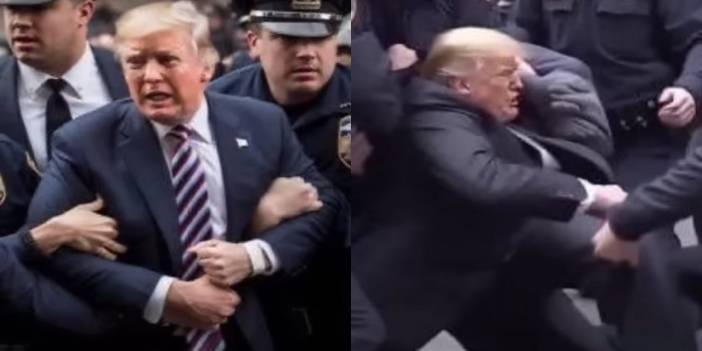 Former US President Trump threatened his accusers: 'It will result in destruction and death'
"My impeachment process results in potential death and destruction," former US President Donald Trump said in a statement regarding the ongoing investigation into allegedly paying pornographic film actor Stormy Daniels for their relationship.
Former US President Donald Trump made a statement to Truth Social, the social media platform he founded, regarding the investigation launched by New York prosecutors on the grounds that he paid adult film actress Stormy Daniels a "share of silence" about their relationship. illegally paid from campaign resources. Expressing once again that he did not commit any crime with sharp words, Trump said, "How is the former President of the USA, who received more votes than any other president in the world, despite everyone knowing that he did not commit a crime? Is it not known that the leading candidate, and the potential death and destruction that such a false accusation could cause could be a disaster for our country? Who would do such a thing? A corrupt psychopath who truly hates the United States of America."
Grand Jury Meeting To Discuss The Investigation Canceled
The grand jury meeting for the investigation launched by New York prosecutors was canceled yesterday. The meeting was expected to take a decision on the preparation of an indictment against Trump. It is not yet known when the jury will meet again.
If the jury decides to file an indictment, Trump is expected to be detained and questioned. If Trump is arrested, the case will be recorded for the first time in US history that a former or current US President has been detained.
Trump Made Payment From Election Campaign Resources
Trump allegedly signed a deal in 2016 to pay Daniels $130,000 from campaign sources to keep him quiet about their relationship. Daniels, however, argued that the deal was invalid because it was not signed by Trump. While Trump denied Daniels' allegations, Michael Cohen, who was his attorney before the 2016 election campaign, confirmed that he paid Daniels $130,000 from his own account on Trump's behalf.
Prosecutors Comment Payment As Fraud In Offıcial Records
The payment between Trump and Daniels is not illegal, but Trump's payment to Cohen was recorded as attorney's fees, which prosecutors said could be construed as fraudulent records and could constitute a crime.
Denying any charges against him, Trump said in a statement that the Manhattan District Attorney's Office would arrest him in connection with the investigation, and called his supporters to protest.