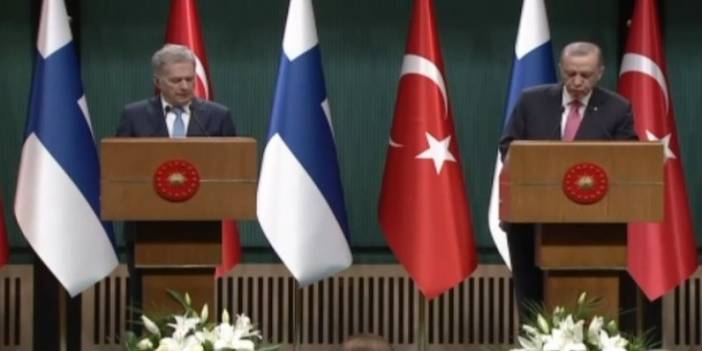 Finland's NATO membership has been approved by Turkey
Turkish President Recep Tayyip Erdogan, in a statement to the press with Finnish President Sauli Niinistö, said, "We have decided to start the approval process in the Parliament for Finland's accession to NATO."
Finnish President Niinistö met with President Erdogan in Ankara today as part of his visit to Turkey. The leaders spoke at the joint press conference held after their bilateral meetings.
Starting his speech by saying, "Turkey and Finland are two friendly countries with good relations throughout history. The relations established with the agreement signed in 1924 became even stronger," President Erdoğan continued as follows;
"I would like to thank once again for the solidarity shown by the Finnish government and people. In our meetings, we confirmed our common intention to develop Turkey-Finland relations. Last year, our bilateral trade volume exceeded 2 billion dollars. The common goal is to reach 3 billion dollars and then 5 billion dollars. and we are ready to diversify our commercial relations.
Finland's Approval Process Starts
Turkey is a country that has sacrificed thousands of its citizens to terrorism. We are simultaneously fighting the bloodiest structures in the world. We are determined to root out terrorist organizations that take the life of our nation. We evaluate NATO's enlargement process within the framework of these realities. At the summit held in Madrid, we approved the start of accession negotiations between Finland and Sweden. With the signed tripartite agreement, we recorded Turkey's rightful demands. We have seen Finland take sincere steps. We are starting the approval process for Finland's NATO membership based on the importance they show to our country's sensitivities and the progress made. I hope this decision will be beneficial for our alliance, especially our countries.