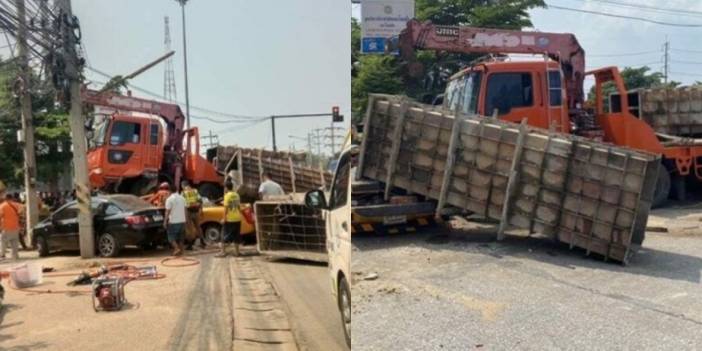 Crane with a burst brake crashed into vehicles in Thailand: There are many dead and injured
In Nakhon Ratchasima province of Thailand, a crane truck with a broken brake crushed the vehicles waiting in the traffic. 2 people died in the accident, 5 people were injured.
In the Chok Chai region of Nakhon Ratchasima province, Thailand, a crane with a burst brake hit a lot of vehicles. In the images reflected on the crime scene security cameras, it was seen that the truck coming very fast from the opposite direction hit 3 vehicles waiting at the red light.
In the tragic accident, 2 people in the vehicle that was under the truck died at the scene. It was stated that the bodies were removed with difficulty from the vehicle. It was reported that 5 people injured in the incident were taken to the hospital by ambulance.
It was learned that the truck that caused the accident was a rental vehicle belonging to the Thailand Electricity Administration.
An investigation into the accident has been launched.
Source: Chokchai Police Station