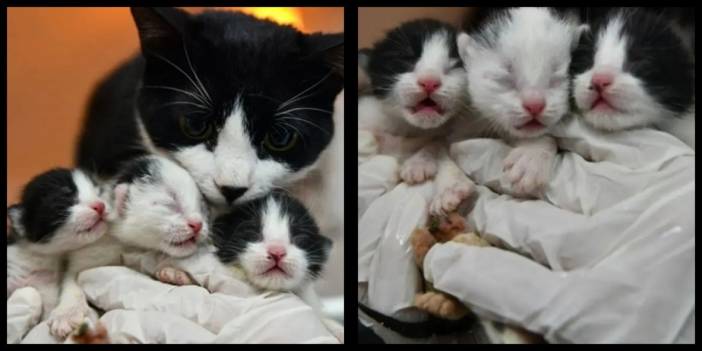 A cat rescued from the wreck gave birth by cesarean section
A miracle took place in Gaziantep, which was heavily damaged by the 7.7 and 7.6 magnitude earthquakes that occurred in Kahramanmaraş. The pregnant cat rescued from the wreckage on the 11th day of the earthquake gave birth by cesarean section.
A pregnant cat was rescued from under the rubble on 11th day of the Feb. 6 earthquakes in southeastern province of Gaziantep's Nurdağı district.
Realizing that the cat was pregnant, the rescue team reported the situation to the Gaziantep Zoo.
The cat has given birth to three kittens via cesarean section with an operation conducted in the zoo, state-run Anadolu Agency reported on Feb. 23.
Berna Sarıçiçek, the Director of the Department of Natural Life Protection Veterinary Affairs, said the birth started under the rubble but the cat could not give birth due to fear.
"The rescue team found the cat and contacted us. Here, we conducted a cesarean section operation. One of the kittens died, but we saved the mother with three others. She is currently fed with serum, not accepting oral feeding yet. The mother stays in intensive care with her kittens. We think she will be fine for up to 15 days," Sarıçiçek added.
Source: duvarenglish.com