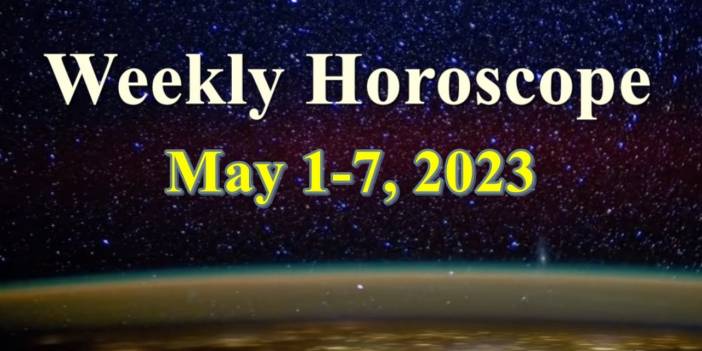 Weekly Horoscope: May 1-7, 2023
Aries, Taurus, Gemini, Cancer, Leo, Virgo, Libra, Scorpio, Sagittarius, Capricorn, Aquarius, Pisces Weekly Horoscope for 1-7 May 2023. This week, we can overcome disappointments very easily if our feet are on the ground enough.
On Friday at the weekend, we will experience a lunar eclipse in Scorpio, one of the most important celestial events of this year.
When we look at the week in general, we seem to be going through a week where we will learn how to solve the chaos in our lives. If our feet are on the ground enough, I can say that we can overcome disappointments very easily.
Weekly Horoscope: May 1-7, 2023
Aries
Chaos is the main theme of this week and you will experience and see how you will move forward in the face of this situation. Your spouse or partner's money-related situations may happen to you. You may falter in your relationships with those around you.
Taurus
You may enter a new period, especially in your long-term relationship. I advise you to speak truthfully. Also, try not to deal with people you don't know, especially in financial matters.
Gemini
It looks like you will spend a week taking care of your health. I say complete the deficiencies related to health. Pay close attention to your psychology, too. Sleep will be especially important to you.
Cancer
It would not be an exaggeration to say that the bells of love will ring for you this week. You may be sailing into a new relationship and it can change you quite a lot. Try not to make radical changes in your appearance, the result can be frustration.
Leo
Moving or remodeling may be on your agenda. In the meantime, you may be running the business of your parents or family elders. I recommend that you act with great patience while doing this.
Virgo
It will be very beneficial for you to reconsider your short-term plans this week. You can present yourself in a more positive way in possible developments. It is possible that you will encounter both a good and a negative development in the field of business and career.
Libra
Your attention seems to be shifting to financial matters this week. In this sense, it is very likely that you will start new jobs now. It is possible to say that you will pass a sweet test in bilateral relations. Just take care of your health this week.
Scorpio
We can say that this week will be the week of new beginnings for you. I hope you will evaluate the new alternatives that will open your way correctly. There is also the possibility of solving some problems related to positive, love and children in your health and business life.
Sagittarius
This week I can tell you that friend and foe will emerge and you will see who is digging a well behind you. While positive developments in love are waiting for you, I recommend you to be more careful about family elders and real estate.
Capricorn
You may be going through a week where you will see yourself in much more social events. As long as you pay attention to your relationship with your friends and siblings, you will not have a problem. Try to be a little more balanced.
Aquarius
We can say that the main topic of the week will be career, work and power for you. You may change jobs or have important job interviews this week. Also, I would say don't borrow money this week, don't lend money.
Pisces
If there are topics related to abroad or academic subjects this week, you may find yourself in a fresh start on your agenda. Also, I say don't make quick changes with yourself by making quick decisions.
Source: Life724