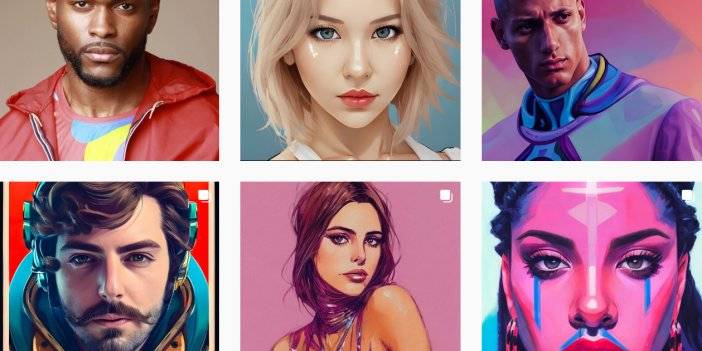 The 'Artificial Intelligence Selfie' Craze in Social Media: All About 'Lensa AI App'
Recently, portraits prepared with the help of artificial intelligence, resembling comic book heroes or characters from the Renaissance painting, have become popular on social media. So how are such pictures made? All about Lensa AI App.
If you're someone who likes to spend time on social media, you've probably seen a photo of many of your friends recently that looks like comic book heroes or characters from Renaissance paintings.
So how does this happen?
Answer: Lensa AI App.
This application, which processes your selfies using artificial intelligence, creates your various states. For example, you might look like a Marvel character or a character from a famous Picasso painting.
Let's get to know the Lensa AI application together.
What is Lensa AI?
Lensa AI is a smartphone application. Even if you haven't downloaded this application, which reached astronomical popularity last week, you have seen many photos taken with this application in your social media streams.
This application, created by Prisma Labs, has actually been actively used since 2018. However, according to data from analytics company Sensor Tower, Lensa AI achieved its real popularity thanks to the "magic avatars" feature that came in late November.
Is Lensa AI App Paid?
Yes. There is a free trial period for the first week after downloading the app. In this process, the application offers you 10 visuals, 50 avatars, in 5 different styles such as "anime", "fairy princess", "cosmic". After that, your "unlimited access" subscription starts for $35.99 per year.
You can also make in-app purchases for avatar packs. In this way, your avatar options reach 200.
Unfortunately, as the popularity of the application increases, the prices change every day. So when you enter the app store after reading this news, you may encounter another price.
Is Lensa AI Safe?
Prisma Labs states that Lensa's data from your photos is not shared with third parties, but the app's security policy supports this.
The application states that the uploaded photos are only used in the production of avatars and that both the photos and the machine learning model produced specifically for you are deleted 24 hours after the process is completed. However, it is stated that photos and videos can be used to train Lensa's algorithms.
"I doubt the whole business model is limited to 'Give us $10-15 and we'll get you a great AI photo,'" says Jen King, who studies data security and policy.