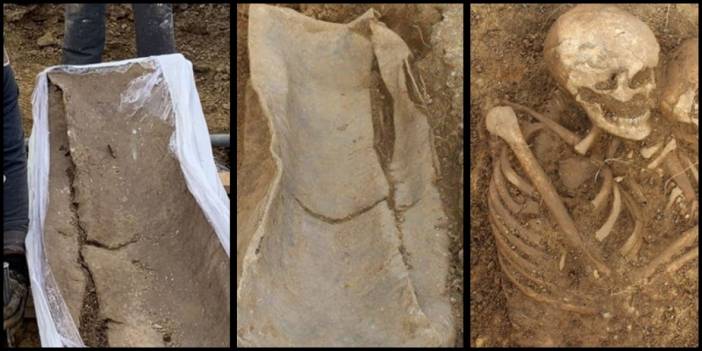 Bone remains of a Roman aristocrat have been found in England
The skeletal remains of an unidentified woman, believed to be a Roman aristocrat, have been found during archaeological excavations at a 1600-year-old cemetery in the north of England.
In partnership with West Yorksihe Joint Services, the skeletal remains of an unidentified woman believed to be more than 1,000 years old have been unearthed in an ancient lead sarcophagus in a previously undiscovered 1600-year-old cemetery near the town of Garforth in Leeds, England.
Leeds City Council said in a statement that they thought the woman whose remains were found was a late Roman aristocrat. In addition, the remains of more than 60 people, including men, women and children, were found in the area, which was unearthed by a team of archaeologists. The remains are thought to belong to both the late Roman and early Saxon periods, as burial customs from both periods are found in the tombs.
According to the statement, the discovery was made in the spring of last year, but the statement is now being made due to the 'need to ensure the security of the area'. Excavations at the site, whose exact location is kept secret, began with the earlier discovery of late Roman stone buildings and a small number of Anglo-Saxon style structures near the site. It was stated that the excavation has been completed, along with detailed chemical tests, expert examination of the remains will be carried out, including carbon dating to determine exact time periods.
May Shed Light On A Period in British History
It was stated that the discovery could help unravel the secrets of one of the most important periods in British history. They also hope that the tomb will help archaeologists understand the largely undocumented and extremely important transition between the fall of the Roman Empire around AD 400 and the subsequent establishment of the famous Anglo-Saxon kingdoms.
"Lead Coffin is Extremely Rare"
David Hunter, chief archaeologist at West Yorkshire Joint Services, said of the discovery:
"This has the potential to be a find of great importance to what we understand about the development of ancient Britain and Yorkshire. The existence of two communities using the same burial site is extremely unusual, and whether their use of this cemetery overlaps will determine how important the find is. Seen together "The burials show the complexity and instability of life in a dynamic period of Yorkshire history. The lead coffin itself is extremely rare, so this was a truly extraordinary excavation."